Gear Guide: Latest Kayaking Products
Ambush Hybrid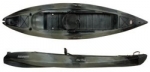 by Old Town Canoe
Use this unique and versatile hybrid boat for casting, still fishing, trolling, hunting, crabbing or you name it. Stand up or sit down. Take it out with a partner or go solo. Paddle, push-pole, or use an electric trolling motor - you pick the best way to edge into the water. You'll enjoy the efficient hull of a kayak, combined with the storage capacity of a canoe and the stability of a flat boat. Prepare for your next Ambush. Length: 13'10"; Width: 44"; Depth: 17"; Weight: 100 lbs.; Capacity: 800-850 lbs.
Web Site: www.oldtowncanoe.com/
The Mako Saddles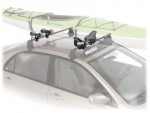 by All Seasons Auto-Racks

One of our sweetest systems, "The Mako Saddles" is designed for stability and protection of sea kayaks, recreational kayaks and whitewater boats. These form fitting cradles fit all hull shapes. The patented Dynaflex pads recess for easy slide positioning of kayak and engage to ensure a strong grip for full boat hull security. The Mako system comes complete with padded buckle tightening straps and bow/stern tie downs.
What more could you ask for? All Seasons Auto-Racks in Victoria, BC, has you covered. Check out our full selection of easy kayak loading systems at one of our locations or visit us online. All Seasons Auto-Racks, Right Rack, Right Price, Always!
Web Site: www.roadracks.com