Great Bear Rainforest Kayak Tours
Sorry, there are no tours scheduled for this location at the moment. Please check back soon.
The Great Bear Rainforest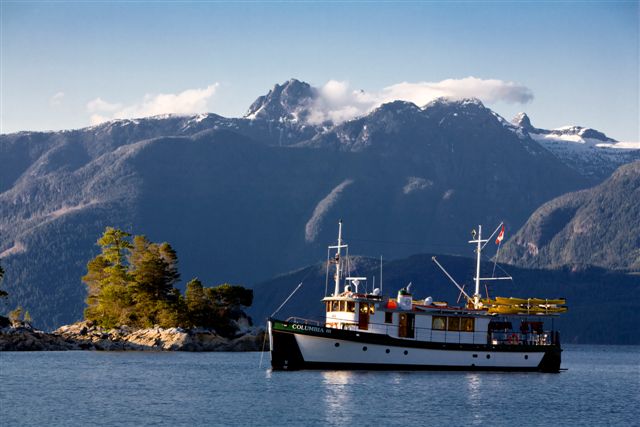 The area dubbed the Great Bear Rainforest is one of the largest remaining tracts of unspoiled temperate rainforest left in the world. It's 64,000 sq kilometers encompass BC's coastline north from the tip of Vancouver Island to the BC/Alaska border. Within the Great Bear Rainforest lie some of the world's last untouched old growth hemlock and cedar forests. Over eighty river systems encompass rich salmon streams that weave through valley bottoms.
We journey to this area by kayak or by our motherhip. These waters provide food for orcas, eagles and wolves. Black bears, grizzlies, and the rare and reclusive white Kermode (Spirit) bear feed from these streams as well as in tidewater estuaries thick with grasses, roots and berries. In this rainforest, wild salmon are foundational to its ecosystem: kayakers may see grizzlies dragging salmon into the forest – the left over carcasses facilitate a nitrogen transfer to the soil. Salmon DNA is prevalent in many old growth trees in the rainforest.
Long the target of environmentalist groups that fought to change logging practices in the area, a large portion of the rainforests was set aside by the BC Government on March 31, 2009.
One-third of the region, 2.1 million hectares, is protected:
• Eco-system based management, a system that balances ecological values with resource use and community needs, will be in practice.
• A $120 million economic fund, half of which was raised by eco-groups, has been established to ease the transition to new practices.
• First Nations will be involved in governance along with the BC Government.